You are here
Back to top
Más allá (Paperback)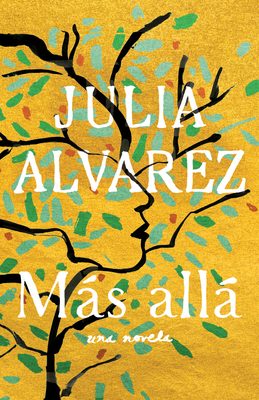 $15.95

Usually Ships in 1-5 Days
Description
---
"Uno de los libros más esperados del año" según Oh, The Oprah Magazine, The New York Times, Vogue, Goodreads, Library Journal, LitHub y Electric Literature.

Poco después de jubilarse de la universidad donde enseñaba literatura, Antonia Vega, una escritora latina, pierde a su adorado esposo y su vida parece desmoronarse de repente. Hasta entonces parecía haber encontrado consuelo en la literatura que ama—las palabras de sus autores preferidos dan vueltas en su cabeza como plegarias—, pero la desaparición de su hermana, con su personalidad impredecible y su gran corazón, junto con la aparición de una inmigrante ilegal en el garaje de su casa, devuelven a Antonia a la dura realidad. En estas circunstancias, el mundo requiere más que palabras. 

Mas allá es una novela ágil y de prosa depurada. En momentos en los que reinan la confusión y el caos, la protagonista se plantea: ¿Le debemos algo a los que sufren, sean inmigrantes desconocidos o familiares cercanos? ¿Cómo podemos mantener la fe en los demás y en nosotros mismos en una realidad destrozada? Y, sobre todo, ¿cómo honramos a las personas que amamos y hemos perdido?

"Una imponente obra de arte que recordara a los lectores que Alvarez está, y siempre ha estado, en un nivel inigualable". --Elizabeth Acevedo, autora del New York Times bestseller, Poet X y ganadora del National Book Award 

"Un retrato íntimo de una escritora inmigrante y reciente viuda que consigue sacar esperanza en medio de un luto personal y político". --O, The Oprah Magazine

"Una novela divertida y conmovedora acerca del amor y la perdida…Alvarez escribe con calidez sobre la relación entre hermanas, sobre cómo pueden pelearse, pero también como apoyarse como nadie. En esta novela de corazón grande, los lazos familiares sanan el luto de una mujer".--Kirkus Reviews

"Una encantadora novela de inmigración, perdida y amor". --Booklist

"La reina está de vuelta con la novela que necesitamos en este momento. Un poderoso testimonio sobre la humanidad, escrito con audacia y autoridad". --Luis Alberto Urrea, autor del bestseller, La casa de los ángeles rotos

"Encantadora y sincera, Mas allá explora las complejidades de la devoción familiar y la tragedia, con el trasfondo de un mundo en crisis, y la forma en que luchamos por mantener la esperanza, la fe, la compasión y el amor. Esta es Julia Alvarez en su mejor y mas intima version". --Jonathan Santlofer, autor de The Widower's Notebook

"Desde siempre Julia Alvarez ha demostrado que es sabia además de divertida, y que tiene buen ojo para las alegrías y los pesares del amor y la familia. Ahora, en Mas allá, aplica sus dones a la historia de Antonia, quien lucha por salir de la comodidad consoladora de la poesía y enfrentarse de nuevo a la floreciente confusión del mundo".--Stewart O'Nan, autor de Emily, Alone and Henry, Himself

ENGLISH DESCRIPTION

A Time Magazine Must-Read Book of 2020
A Most-Anticipated Book of the Year: O, The Oprah Magazine * The New York Times * The Washington Post *Vogue * Bustle * BuzzFeed * Ms. magazine * The Millions * Huffington Post * PopSugar * The Lily * Goodreads * Library Journal * LitHub * Electric Literature

The first adult novel in almost fifteen years by the internationally bestselling author of In the Time of the Butterflies and How the García Girls Lost Their Accents

"A stunning work of art that reminds readers Alvarez is, and always has been, in a class of her own." —Elizabeth Acevedo, National Book Award-winning author of the New York Times bestseller The Poet X

Antonia Vega, the immigrant writer at the center of Afterlife, has had the rug pulled out from under her. She has just retired from the college where she taught English when her beloved husband, Sam, suddenly dies. And then more jolts: her bighearted but unstable sister disappears, and Antonia returns home one evening to find a pregnant, undocumented teenager on her doorstep. Antonia has always sought direction in the literature she loves—lines from her favorite authors play in her head like a soundtrack—but now she finds that the world demands more of her than words.

Afterlife is a compact, nimble, and sharply droll novel. Set in this political moment of tribalism and distrust, it asks: What do we owe those in crisis in our families, including—maybe especially—members of our human family? How do we live in a broken world without losing faith in one another or ourselves? And how do we stay true to those glorious souls we have lost?
About the Author
---
Julia Alvarez llegó a Estados Unidos desde la Republica Dominicana en 1960, a la edad de diez años. Es autora de seis novelas, tres libros de no ficción, tres colecciones de poesía, y once libros para niños y jóvenes lectores. Ha enseñado y sido mentora de otros escritores en diferentes escuelas y comunidades en los Estados Unidos, y fue escritora residente en Middlebury College. Su trabajo ha sido reconocido internacionalmente. Alvarez fue nombrada Mujer del Año por Latina Magazine, y ha sido galardonada con el Latina Leader Award in Literature por el Congressional Hispanic Caucus Institute y el Hispanic Heritage Award in Literature, además de recibir la Medalla Nacional de las Artes de manos del presidente Barack Obama en 2013, en reconocimiento a su extraordinaria capacidad para contar historias.
Praise For…
---
"Una imponente obra de arte que recordara a los lectores que Alvarez está, y siempre ha estado, en un nivel inigualable". --Elizabeth Acevedo, autora del New York Times bestseller, Poet X y ganadora del National Book Award 

"Un retrato íntimo de una escritora inmigrante y reciente viuda que consigue sacar esperanza en medio de un luto personal y político". --O, The Oprah Magazine

"Una novela divertida y conmovedora acerca del amor y la perdida…Alvarez escribe con calidez sobre la relación entre hermanas, sobre cómo pueden pelearse, pero también como apoyarse como nadie. En esta novela de corazón grande, los lazos familiares sanan el luto de una mujer".--Kirkus Reviews

"Una encantadora novela de inmigración, perdida y amor". --Booklist

"La reina está de vuelta con la novela que necesitamos en este momento. Un poderoso testimonio sobre la humanidad, escrito con audacia y autoridad". --Luis Alberto Urrea, autor del bestseller, La casa de los ángeles rotos

"Encantadora y sincera, Mas allá explora las complejidades de la devoción familiar y la tragedia, con el trasfondo de un mundo en crisis, y la forma en que luchamos por mantener la esperanza, la fe, la compasión y el amor. Esta es Julia Alvarez en su mejor y mas intima version". --Jonathan Santlofer, autor de The Widower's Notebook

"Desde siempre Julia Alvarez ha demostrado que es sabia además de divertida, y que tiene buen ojo para las alegrías y los pesares del amor y la familia. Ahora, en Mas allá, aplica sus dones a la historia de Antonia, quien lucha por salir de la comodidad consoladora de la poesía y enfrentarse de nuevo a la floreciente confusión del mundo".--Stewart O'Nan, autor de Emily, Alone and Henry, Himself