You are here
Back to top
Dance of Thieves (Paperback)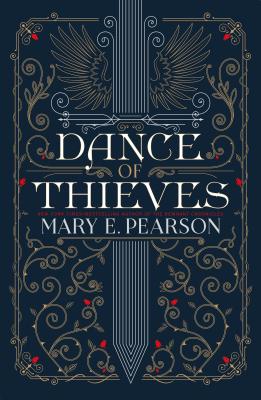 $12.99

Usually Ships in 1-5 Days
Description
---
Mary E. Pearson's Dance of Thieves is a new YA novel in the New York Times bestselling Remnant Chronicles universe, in which a reformed thief and the young leader of an outlaw dynasty lock wits in a battle that may cost them their lives—and their hearts.

When the patriarch of the Ballenger empire dies, his son, Jase, becomes its new leader. Even nearby kingdoms bow to the strength of this outlaw family, who have always governed by their own rules. But a new era looms on the horizon, set in motion by a young queen, which makes her the target of the dynasty's resentment and anger.

At the same time, Kazi, a legendary former street thief, is sent by the queen to investigate transgressions against the new settlements. When Kazi arrives in the forbidding land of the Ballengers, she learns that there is more to Jase than she thought. As unexpected events spiral out of their control, bringing them intimately together, they continue to play a cat and mouse game of false moves and motives in order to fulfill their own secret missions.
About the Author
---
Mary E. Pearson is the author of The New York Times-bestselling Remnant Chornicles and other bestselling, award-winning novels for teens. The Miles Between was named a Kirkus Best Book of the Year. The Adoration of Jenna Fox was listed as a Bank Street Best Children's Book of the Year, an IRA Young Adult Choice, NYPL Stuff for the Teen Age, and a School Library Journal Best Book of the Year. She is also the author of A Room on Lorelei Street, David v. God, and Scribbler of Dreams.

Pearson studied art at Long Beach State University, and worked as an artist before earning her teaching credentials at San Diego State University. She writes full-time from her home in Carlsbad, California, where she lives with her husband and two dogs.
Praise For…
---
The Beauty of Darkness:

"Pearson has created such a dynamic and inspiring heroine. . . . Fantasy fans will love this marvelous, high-action conclusion to the trilogy." —School Library Journal

"Full and rich." —Booklist

"Pearson is an excellent storyteller . . . . She brings an ambitious trilogy to a rousing conclusion." —The Horn Book

The Heart of Betrayal:

A New York Times Bestseller

"It's rare that the second book in a series is as good–or perhaps better–than the first, but that's the case here. . . . Anticipation for the next volume will start as soon as this one is put down." —Booklist, starred review

The Kiss of Deception:

"Pearson (the Jenna Fox Chronicles) is off to an extraordinary start with her fantasy series, creating an alluring world and romance that's ideal for fans of Kristin Cashore and Megan Whalen Turner." —Publishers Weekly, starred review

"Pearson offers readers a wonderfully full-bodied story: harrowing, romantic, and full of myth and memory, fate and hope." —Booklist, starred review

"Romance, adventure, mysticism–this book has it all and it just may be the next YA blockbuster." —School Library Journal, starred review