You are here
Back to top
The Hardy Boys Collection: The Tower Treasure The House on the Cliff The Secret of the Old Mill (Paperback)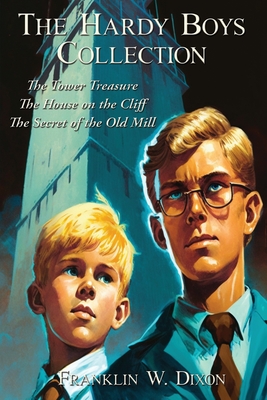 $12.99

Usually Ships in 1-5 Days
Description
---
Collected here in one omnibus edition are the first three Hardy Boys Adventures. These are the stories that captured the imagination of generations of readers.
The Tower Treasure
Frank and Joe Hardy were driving along on their motorcycles one pleasant afternoon when a roadster driven by an apparent madman almost ran them down. The event happened so fast that all the boys noticed was the drivers's bright red hair. Later, that same red-haired driver attempted to rob a ferry boat office, and successfully made off with a yellow roadster called Queen from the Hardys' friend, Chet Morton. Since one witness reported that the villain had dark hair, the Hardy Boys assume The man was wearing a red wig when they saw him.
When the boys hear a report that there has been a robbery of forty thousand dollars in securities and jewels from the Tower Mansion owned by siblings Hurd and Adelia Applegate they decide it's time to follow in their father's footsteps and become private investigators.
The House on the Cliff
Fenton Hardy, the famous private detective and father of the Hardy Boys, asks his sons to help him with his latest case involving the illegal drug trade. Hardy sends Frank and Joe to a house on the cliff, whose location offers an excellent vantage point to watch for smugglers.
The Hardy Boys are tricked into going inside the house by cries for help, and find themselves trapped for a short time in the attic; meanwhile, their telescope and motorcycles are damaged. From the attic they see a man in a motorboat being chased by another motorboat. After his boat explodes in flames, Biff and Joe swim out while Frank and Chet get a rowboat to rescue the man. Once brought to shore, the man regains consciousness and says his name is Mr. Jones, which the Hardy Boys believe to be a thinly-disguised alias.
The next day, both Mr. Hardy and Mr. Jones disappear. Frank and Joe seek out one of Mr. Hardy's informants at the docks to see if he knows anything about the smugglers and what might have happened to their father and Mr. Jones. Another top notch mystery for the Hardy Boys to solve.
The Secret of the Old Mill
Frank and Joe help prevent Ken Blake from getting killed in a cycling accident. The Hardy Boys learn that their friend Chet Morton was swindles when he made change for what turned out to be a counterfeit twenty dollar bill, something that the police later confirm is becoming more common in their town of Bayport.
Later, Joe is awakened by a clattering sound and sees a mysterious figure bicycling away from the his home. While investigating the disturbance a note is found that reads, "Drop the case or else danger for you and your family." The Hardy boys are not sure if this threat refers to the counterfeiting case that Frank and Joe are investigating or another case their detective dad, Fenton Hardy, is trying to solve, but they're intent on finding out who's threatening them. Can they stay alive and solve both cases before danger finds them?