You are here
Back to top
Life with the Afterlife: 13 Truths I Learned about Ghosts (Hardcover)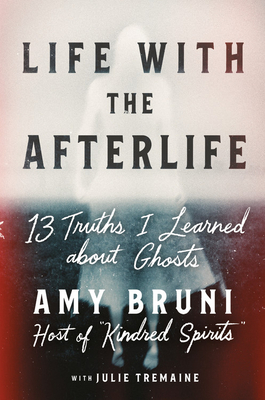 $27.00

Usually Ships in 1-5 Days
Description
---
A USA TODAY BESTSELLER

Star of Kindred Spirits and paranormal investigator Amy Bruni shares stories from her years of experiences with ghosts, organized around thirteen truths that guide her approach to the supernatural.

Amy Bruni, co-star of Kindred Spirits and one of the world's leading paranormal investigators, has learned a lot about ghosts over her years of research and first-hand experience. Now, in Life with the Afterlife, she shares the insight she has gleaned and how it has shaped her unique approach to interacting with the spirits of the dead and those who encounter them.

From her earliest supernatural encounters as a child, through her years appearing on Ghost Hunters and the creation of her company Strange Escapes, which offers paranormal excursions to some of America's most notoriously haunted destinations, and into her current work on The Travel Channel's Kindred Spirits, this book is full of astonishing and deeply moving stories of Amy's efforts to better understand the dead but not yet departed. With Amy's bright humor and fierce compassion for both those who are haunted and those who are haunting, Life with the Afterlife is an eye-opening look at what connects us as people, in life and beyond.
About the Author
---
Amy Bruni started working professionally as a paranormal investigator in 2007, when she began appearing on Ghost Hunters, one of the longest-running and highest-rated paranormal television shows. Now, she's the co-star and executive producer of The Travel Channel's Kindred Spirits. In addition, Amy is the owner of Strange Escapes, a company offering paranormal excursions to some of America's most notoriously haunted destinations.

Praise For…
---
"One need not take ghosts literally in order to benefit from the lessons Bruni's learned serving both the haunted and the haunting."
The New York Times
"You don't get more legit thanAmy when it comes to ghost hunting and investigating the paranormal. Herpragmatic approach to a subject matter that is often full of hysteria is sorefreshing and real. If you're wanting to read a book about how things reallyare when it comes to ghost hunting... this is it."
Jack Osbourne
"A field guide to things that go bump in the night. Amy's boundlesscuriosity for the unknown shines through like a bright flashlight in thedarkest night."
Josh Gates, Host,Expedition Unknown
"AmyBruni is one of the world's preeminent paranormal investigators. In her firstbook, Amy shares her vast knowledge about ghosts and her experience in dealingwith the afterlife. Take it from me: spirits are giving this book twotremendous thumbs up."
Chip Coffey, psychic, medium, and TV personality
"Full of astonishing and deeply moving stories…Extraordinary, insightful, thought provoking, inherently fascinating, and very highly recommended reading."
Midwest Book Review
"Bruni's conversational styleand ghost-hunting tips that also serve as life tips (go in with an open mind,don't judge, beware of your own bias), plus the fact that she makes no attemptto win over non-believers, make this a perfect read for fans and anyoneinterested in the paranormal."
Booklist
"If you're into real life (?) ghost stories and the people who investigate them, here's a read for you."
Book Riot