You are here
Back to top
Solar Power for Greenhouse Gardening [2 Books in 1]: The Complete Guide to Design and Build a Low-Cost Solar Greenhouse, RVS, Vans, Cabins and Tiny Ho (Hardcover)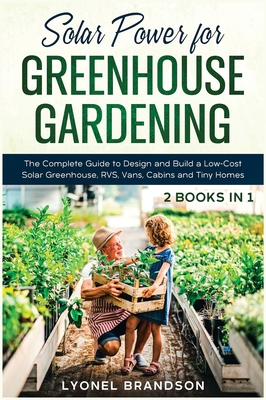 $46.99
Email or call for price.
Description
---
"55% OFF for Bookstores Discounted Retail Price NOW "
Are your customers looking for a guide to develop the green thumb, save money and live green by following a method that has a 94% success rate and near-zero expenses?
Do you want to make sure that by buying just one book they will come back to buy again and again?
Then, You Need This 2 in 1 bundle in Your Library and... Your Customers Will Never Stop to Use and Gift It
? - WHY THIS BOOK CAN HELP YOUR CUSTOMERS
Sustainable lifestyle blogger and professional Lyonel Brandson takes your customer on a tour through the power of Green Living, offering tips, tricks and tens of ways to help him lead a more low-impact lifestyle. Whether its by making from scratch a sustainable greenhouse, building and mounting eco-sustainability solar panels, growing marijuana plants carefree, there are numerous ways - both big and small - to make a difference.
With environmental issues at the forefront of global politics, the desire to make small changes on an individual level is on the rise; this smart book will guide your customer hoping to make a difference, but who perhaps don't know where to begin.
Your customers will find:
 How to design and build a sustainable greenhouse with near-zero expenses
 How to build and safely mount the first solar panel suitable for greenhouse, RVS, Vans, Cabins, and tiny homes]
 Climatic conditions, different types, lighting conditions...
 Every low-cost tool needed
 Step-by-step instructions with pictures
 Advanced tips & tricks to save time and money
Are you ready to leave a permanent imprint on the lives of your clients and their families?
Click the "BUY NOW" Button, Buy THOUSANDS of Copies, and Let Your Customers Rob Your Library