You are here
Back to top
The Convoluted Universe: Book Two (The Convoluted Universe series) (Paperback)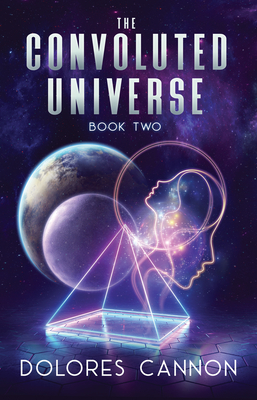 $18.00

Usually Ships in 1-5 Days
Description
---
For those who have enjoyed the challenges of Book One of this series, we present Book Two. Buckle your seat belts and get ready for another roller coaster ride that will present new concepts and either threaten or expand your belief systems. Dolores Cannon continues to uncover complicated metaphysics, creating the need for sequels.
Included in this book:
Hidden Underground Cities
Energy and Creator Beings
Time Portals for Traveling Between Dimensions
Life on Other Planets
The Universal Language of Symbols
Splinters and Facets of the Soul
Raising of Vibrations and Frequencies to Shift into the New Earth
Characteristics of the New Earth
About the Author
---
Dolores Cannon is a past-life regressionist and hypnotherapist who specializes in the recovery and cataloging of "Lost Knowledge". Her roots in hypnosis go back to the 1960s. She has been specializing in past-life therapy since 1979.Dolores has become, perhaps, the world's most unlikely expert on the prophecies of Nostradamus.
A retired Navy wife from Huntsville, AR, USA, Dolores was nearly fifty years old when she began experimenting with hypnosis and past-life regression. The results were, to say the least, quite spectacular!Working through several different subjects, Dolores was able to establish communication with the living Michel De Notredame, better known as the prophet, Nostradamus. His revelations and their impact on our own time are both fascinating and at times frightening.
Dolores has written the three volume set "Conversations With Nostradamus", the series on the translation of Nostradamus' quatrains. This series contains the translation of almost 1000 prophecies, all interpreted for the first time and have been in print since 1989. It is considered the most accurate interpretation of the prophecies ever printed.During the past eighteen years Dolores has been a UFO investigator, using her skills as a regressionist to help people that been involved in abduction cases. She has written several books on the UFO information volunteers have revealed while under hypnosis.Dolores is now teaching her unique technique of hypnosis all over the world.In addition to the three volumes of Converstations With Nostradamus.
Dolores has completed: The Legend of Starcrash, Keepers of the Garden, Legacy from the Stars, A Soul Remembers Hiroshima, They Walked With Jesus, Jesus and the Essenes, and Between Death and Life. The Custodians, discusses in detail information regarding distorted time, screen memories, reasons for abductions, implants and much, much more...
Praise For…
---
"Are you an intrepid explorer of the unknown? Do you enjoy having your mind twisted in ways you never thought possible? Are you ready to leap down the rabbit hole and emerge in undiscovered territory? Well then...The Convoluted Universe (Volumes 1-3) is your ticket! Dolores Cannon's involvement in the field of hypnosis for over 40 years has resulted in many thought provoking books. She also lectures around the world and teaches her very special method of induction. Cannon began her career as a hypnotherapist, aiming to help her clients solve their problems through the process of hypnosis. It was during one of these early sessions that her amazing journey into the unknown began. While under hypnosis, her client suddenly transformed before her eyes a totally different personality emerged with it's own vocal patterns and body language. In the next series of sessions she regressed her client to 5 distinct lifetimes back to when she was created by God! Cannon s life and belief system was changed forever. Fascinated, she now saw this work as a way to explore the history of our world and beyond - 'firsthand.' In the late '70's she discovered that the majority of problems people experience can be traced back to events that occurred in their past lives, instead of their present ones Over the years she has developed her own method of regression, and is able to quickly get her clients to the somnambulist trance state which is the deepest possible trance state. It is there that she is able to contact and communicate with the individual's subconscious. Through her books, Cannon brings us along with her as she regresses her clients back to past lives and beyond. The narrative voice is engaging and down to earth. She shares her internal dialogue as she comes to terms with the strange situations and areas of the unknown her clients find themselves in. The most amazing thing to me, is the shocking similarity of information brought forth by these people from all over the world - all strangers to her and each other. That really got me thinking. Buried deep within our subconscious lies a wealth of experience and information. And the knowledge that we are all connected. Volume One of The Convoluted Universe transports you to the days of Atlantis, where you'll learn about many Earth mysteries such as the lines of the Nazca Plains, Easter Island, the Pyramids, and so much more. You will explore parallel universes, group souls, other planets, alien life, other dimensions, and more. Most of all, when you come to the end of the book you will want more! Not to worry there are three volumes, with another on the way!" --Abby Horowitz of Mind Body Spirit Odyssey
— Abby Horowitz