You are here
Back to top
Little Chickies / Los Pollitos (Canticos) (Board Books)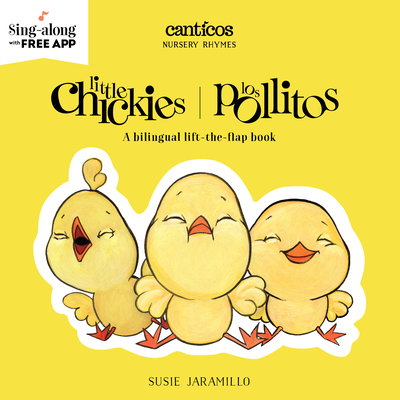 $9.99
Email or call for price.
Description
---
Little Chickies/Los Pollitos is the 1st book in the bilingual (English & Spanish) nursery rhyme collection from Canticos.
This book is based on "Los Pollitos Dicen", one of the most popular songs in the Spanish speaking world.
Canticos animated videos are now streaming across Nickelodeon's digital platforms. Watch them now at nickjr.com/canticos
Concept: Nurture.
Format:
6" by 6" board book format perfect for little readers but with the same fun surprises as the original slipcase book.
Interactive lift-the-flap.
English and Spanish on opposite pages.
"This book belongs to" page to personalize with a child's name.
Children can also download the FREE companion app at canticosworld.com/apps/ as well as watch the sing along video at canticosworld.com/videos
Book summary: The book tells the story of three little chickies and their mother hen, and serves as a metaphor for the demanding nature of babies and the unconditional love, care, and warmth given to them by their mommies.
About the Series: Canticos is a collection of the most beloved nursery rhymes and children's songs from all over the Spanish-speaking world. Canticos creates bilingual books, apps, and sing-along videos.
About the Author
---
Susie Jaramillo: Susie Jaramillo is a mom, an artist and a creative director raising two bilingual children. She worked for many years in advertising having co-founded the vox collective, a NY-based boutique multicultural agency where she served as Chief Creative Officer until 2012. She attended Pratt Institute in Brooklyn where she majored in painting and illustration. Susie Grew up between Venezuela and the United States, always going back and forth fluently between cultures. As a child, she was exposed to songs and traditions from both the United States and Latin America. To bring to life all the things she loved about her Latino culture she created Canticos and now kids of all ages can enjoy these nursery rhymes and songs! She lives in Brooklyn.