You are here
Back to top
Una llama entre cenizas / An Ember in the Ashes (Paperback)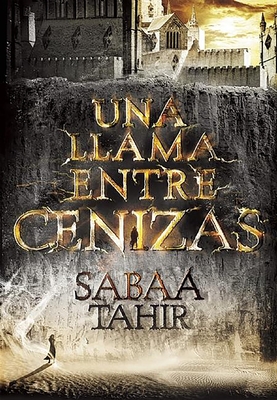 Description
---
Laia es una huérfana que lucha por salvar a su único hermano. Elias es un soldado que lucha por su libertad.

Cuando ambos se encuentren, no tardarán en descubrir que a veces es imposible luchar contra el destino... y que las decisiones que ellos tomen para sobrevivir pueden cambiar el futuro del Imperio.

Laia y Elias descubrirán que el Imperio sólo puede vencerse desde dentro... El futuro de éste está en sus manos.

ENGLISH DESCRIPTION

A "deft, polished debut" (Publishers Weekly, starred review), Sabaa Tahir's AN EMBER IN THE ASHES is a thought-provoking, heart-wrenching and pulse-pounding read. Set in a rich, high-fantasy world with echoes of ancient Rome, it tells the story of a slave fighting for her family and a young soldier fighting for his freedom.

Laia is a slave. Elias is a soldier. Neither is free.

Under the Martial Empire, defiance is met with death. Those who do not vow their blood and bodies to the Emperor risk the execution of their loved ones and the destruction of all they hold dear.

It is in this brutal world, inspired by ancient Rome, that Laia lives with her grandparents and older brother. The family ekes out an existence in the Empire's impoverished backstreets. They do not challenge the Empire. They've seen what happens to those who do.

But when Laia's brother is arrested for treason, Laia is forced to make a decision. In exchange for help from rebels who promise to rescue her brother, she will risk her life to spy for them from within the Empire's greatest military academy.

There, Laia meets Elias, the school's finest soldier—and secretly, its most unwilling. Elias wants only to be free of the tyranny he's being trained to enforce. He and Laia will soon realize that their destinies are intertwined—and that their choices will change the fate of the Empire itself.
About the Author
---
Sabaa Tahir se crió en un pequeño motel que su familia regentaba en el desierto de Mojave, California. Pasó su infancia devorando novelas de fantasía, saqueando la colección de cómics de su hermano y arrancándole acordes a su guitarra. Empezó a escribir Una llama entre cenizas mientras trabajaba por las noches como editora en un periódico. Le encantan el rock indie, los calcetines llamativos y todo lo que tenga algo de nerd. Actualmente vive con su familia en el Área de la Bahía de San Francisco.